GLOBAL TRENDS IN CROP PROTECTION CHEMICALS INDUSTRY BY 2030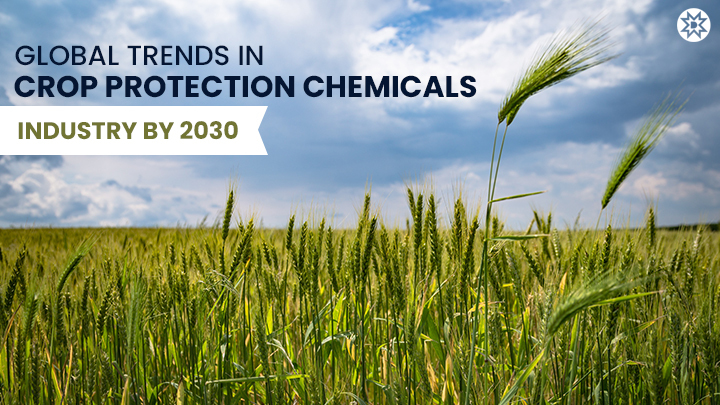 The world population is increasing rapidly, pressing the agriculture department to increase the annual yield from agricultural fields. The global human population is estimated to be around 10 billion by the year 2050. To satiate this large population's food requirements, many crop protection chemicals are being used in farming to enhance the overall yield. Climate change also harms the agriculture sector, encouraging the use of these crop protection chemicals. As a result, the crop protection chemicals market is estimated to generate revenue of $40 billion by the year 2030.
Driving Factors
The industry trends are continuously changing. It is influenced by numerous factors, including increasing organic farming and innovations. In addition, climate change has made the crops susceptible to diseases, further propelling the use of crop protection chemicals.
Geographical Analysis
In geographic regions, this industry has displayed considerable growth in Latin America since 2010. APAC has become the fastest-growing market with increasing usage in developing economies India and China. Backed by government regulations and a prominent local manufacturer base, North America contributed a significant market share in 2021.
Trends
Herbicides captured the largest market share in revenue, estimated to be $40 billion in 2021. The herbicides are expected to grow at a 5% CARG by 2030, owing to their steadily increasing usage in row-crop farming. The insecticides category also generated a significant market share over their wide use in the production of staple crops.
The cereals category is expected to register the highest growth by 2030 owing to the rise in global population and growing awareness regarding healthy lifestyle and diet. In addition, the scarcity of farming lands is also expected to fuel the increase in the usage of crop protection chemicals by 2030.
Regarding source, the synthetic chemicals segment holds a significant market share owing to its abundant use in developing economies, including Africa and Asia. Furthermore, demand for biologically sourced chemicals is expected to rise in the forecast period on the back of local and central government support for eco-friendly crop protection chemicals.
In modes of application analysis, conventional methods such as soil application still hold a significant market share. However, seed treatment is gaining traction owing to its better cost and efficacy.
Investments and R&D Boost Market Growth
Direct investments have considerably increased in the agriculture sector, giving rise to the findings on agriculture technologies. These investments are primarily for encouraging the development of new and effective products. Technological advancements have also led to advanced agricultural practices, including farm robotics and novel farming techniques. These direct investments are encouraging such advances in agriculture.
Market players seek innovations and new product launches to stay ahead of the competition. For instance, Syngenta Crop Protection AG collaborated with M2i Group to launch a natural pheromone-based solution to boost growth and control pests in grape farming in 2020. Furthermore, in 2019, BASF introduced 'Seltima,' an innovation in fungicide for protecting rice crops. Some leading players in the global market include BASF SE, Bayer AG, The Dow Chemical Company, FMC Corporation, and UPL Limited.
Crop Protection chemicals are in demand, and the trends keep on changing. To get the best benefits from the substances, one must use the pure and required combination of these chemicals. For any requirement related to crop protection chemicals, you can connect with us. We are one of the leading crop protection chemical manufacturers based in Ahemdabad. All the substances are tested under global standards. As leading crop protection chemical manufacturers, we understand the importance of storage. Therefore, we store all the chemicals in a hygienic and temperature-controlled space. Contact us today to get your hands on the best quality crop protection chemicals at the lowest rates.
Frequently Asked Questions:
Q1. What are the key factors affecting the price of crop protection chemicals?
A. As there is increase in consumption of crop protection chemicals, there is growth of the convenience foods and fortified foods markets, they have contributed to growth of crop protection chemicals. However, there is fluctuation in price of raw materials and there is lack of awareness in developing countries. The key factors, such as the increase in consumption of Crop protection chemicals, rise in demand for vitamins and minerals in the human diet, disruptions in the distribution channel, changes in logistics & supply chain. However, changes in the prices of raw materials and the lack of awareness in developing countries are projected to act as a factor that slows down the growth of the market during the forecast period
Q2. What are the technological advancements in the market?
A. There is an increase in advancement of technologies fro crop production, which are enabled by feed formulation methods, to improve yield and productivity, which increases the demand for Crop protection chemicals. which increases the demand for Crop protection chemicals. There has also been advancement and development in technologies for the cultivation of various crops.
Q3. What are the global trends in crop protection chemicals industry by 2030?
A. The global crop protection chemicals market is projected to generate $117,436.6 million revenue in 2030, advancing at a CAGR of 4.6% during 2021–2030. This can be attributed to the rising adoption of organic farming and the increasing awareness of pesticide effects on humans.