Uses and advantages of PVC foam boards in industries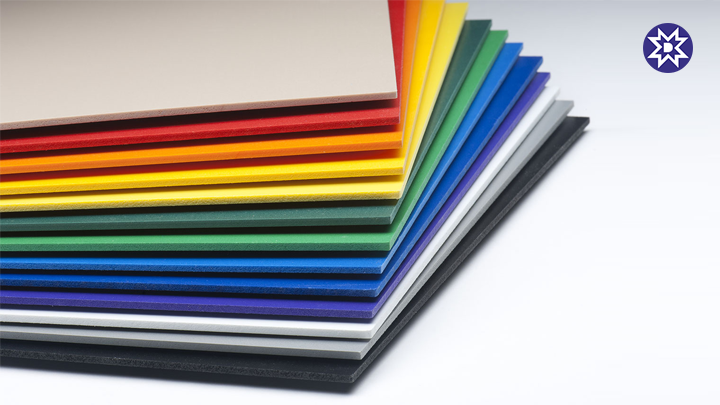 What is PVC Foam Board?
Inventions have helped us to improve the way we live, consume, build, and thrive. Technology has helped bring revolution in all the arena spanning our lives. This holds true in case of construction materials as well. There were days when construction was done using just soil or clay without any binding material. And when we look around today, we see the shimmering glass offices and marble-stoned buildings.
Humans kept experimenting to bring out the best of natural resources available at hand and create substances that are better in quality and last longer than their natural substitutes. One such material is Poly Vinyl Chloride, widely known as PVC. It is highly preferred these days due to it is lightweight, strength, durability and most of all, water-resistant characteristics.
PVC foam board manufacturing companies provide it for all types of construction applications be it indoor or outdoor owing to its high usability. It has been a good replacement for wood which tends to have all weather effects and is likely to corrode in a few years.
Below are the advantages of using PVC foam boards:
1.  Water Resistance: PVC foam boards have solid resistance to water due to its composition. When it comes in contact with water, it does not swell or lose its composition. This makes is fit for all types of weather.
2.  Corrosion Resistance: When brought in contact with chemicals, PVC doesn't react. This keeps its state intact and saves it from any kind of deformation.
3.  Fire Resistance: PVC foam boards can be used anywhere as they are fire resistant. There is no effect of acid, heat or light on it.
4.  High Strength & Durability: Due to the structure of its component molecules, PVC foam boards are highly strong which ensures that they don't undergo any deformation. The boards can survive for as long as 4 decades without any damage.
5.  Easily shaped and painted: PVC can be given any shape to suit your requirements. It can be cut for the furniture of your house or can be made into wall panels for exterior use. Also, it can be painted with any type of paint which lasts for years and gives the look and feel as if it is new!
6.  Pocket-friendly: They are a good substitute for wood or aluminium and they come in a variety of price range. They don't require any extra maintenance and stay in the same state for quite a long time. No special equipment is required to cut or drill them and this makes them pocket-friendly to use.
Owing to the popular advantages of PVC foam boards, they can be used in multiple ways.
Uses of PVC Foam Sheet / PVC Foam Boards:
1.  Used for the ceilings of Cars, Buses or Trains
2.  Widely used for making home and office furniture
3.  Used to build external wall panels
4.  Home interiors can be designed using PVC foam boards
5. Used in sign boards and outdoor advertising kiosks
6. Used in Construction, Garage Doors, POP Displays, Exhibit Spaces & Signage
Reasons Why PVC Boards are Much Better Than Plywood:
1.  PVC Foam Boards consist of materials like Wood-Plastic Composite.
2.  Plywood may not efficiently sustain the moisture and heat while PVC will be a perfect choice for longevity and durability of the materials to sustain moisture and heat.
3.  PVC is very flexible compared to plywood. You can cut or shape PVC Foam Boards according to your requirement, But it plywood, it's not possible.
4.  PVC is made of recycled waste plastic and wood, So it's environment-friendly.
5.  Flexible to use PVC plastic Sheets for various purposes without any limitations but this may not be possible in plywood.
When partitions are made using PVC foam boards, they tend to be resistant to sound effects thereby keeping privacy intact. This makes it perfect for office uses. PVC foam board manufacturers produce it without the use of wood, therefore there is no harm done to the forests for its making.
Navratan Specialty Chemicals LLP is a manufacturing company of PVC foam boards that are easily moulded and shaped to fit your requirements for any type of project use. It's also one of the top best PVC foam board exporters in India serving customers all across the globe with quality PVC products. You can also get its products from PVC foam board's dealers in your region.
Due to its features and multiple uses, they are preferred over other building materials of the same functionality. Day by day, its applications are increasing and owing to its flexible pricing, they are becoming the right choice for a wide range of industrial projects apart from homes.
Frequently Asked Questions:
Q. Why use a PVC foam board?
A. PVC represents polyvinyl chloride, which is known for its high quality, light weight, and water opposition. The spellbound atoms and dipoles together structure the blend of polyuria and polyvinyl chloride known for low or no dampness retention and high quality. PVC gets its durability because of the structurer of these polymers.
Q. What do you think about the performance of PVC Board?
A. It depends on your application. PVC can be recycled, so there are many products made from recycled PVC.
Q. Is PVC foam waterproof?
A. PVC foam board is moisture and corrosion resistant. It is absolutely lightweight. It is also resistant to chemicals. The overall thickness of the material will range from 6 mm to 45mm. It is feasible to engrave, emboss, paint, print, laminate and mill the surface of the foam board according to your requirements.
Q. Are PVC Panels Fire Resistant?
A. PVC foam panels are self-extinguishing and cannot catch flame. It has a UL-94 flame rating, which is the highest rating in terms of fire resistance.
You May Also Like:
A. PVC Foam Board Market Analysis and Forecasts
B. WPC/PVC Boards: Market Review, Advantages, and Opportunities